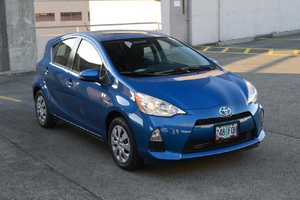 Prius c, called the Toyota Aqua in Japan, is being sold in Japan since December 2011 and in USA and Canada since March 2012. 
The format of the car is a 5-door hatchback. The page of the car in the website of Toyota USA here and Toyota Canada here
It is built in the Iwate Plant in Japan. 
It is powered by a HSD (Hybrid Synergy Drive) engine and a 1.5 DOHC 16 valve gasoline engine. 
Articles about the Toyota Prius c concerning: