The following pages pertain to the current Prius Gen 3 models (MY2010 and MY2011) released in Summer 2009.
The car is built at the Tsutsumi, Fujimatsu[1][2] and Motomachi[3][4] plants in Japan. 10 Videos of the assembly line can be found here and on Youtube here .
The model designations for Gen 3 are as follows:
ZVW30 (2010-2012 (?) Prius)
ZVW35 (2010 Prius Plug-In demonstrator)
ZVW35L (2012+ Prius Plug-In)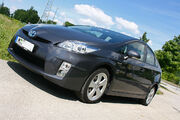 The following sections are available:
References:
Ad blocker interference detected!
Wikia is a free-to-use site that makes money from advertising. We have a modified experience for viewers using ad blockers

Wikia is not accessible if you've made further modifications. Remove the custom ad blocker rule(s) and the page will load as expected.